Specification:
Emitter type: CREE XHP35 HI
Max Lumens Output: 1300lumens
Power by 1x 18650 or 1x 26650 battery (Battery NOT Included)
Maximum beam Intensity: 124000cd
Maximum beam Distance: 700 meters
Working voltage: 2.8-4.35 volt
USB Charging Current: 2A (Overcharge and discharge protection)
Circuit Driver: PFM/PWM Synchronous booster intelligent conversion circuit Intelligence Lithium battery charge design
Reflector: aluminum reflector
Material: Aero grade aluminum alloy(Surface treatment: Premium type III hard anodized anti-abrasive finish,Thickness> 50μm
Switch Type: Click switch
Size: Length 148mm x Head diameter 59mm x Body diameter 35mm
Weight: 290g(without battery)
Accessory: Lanyard *1, USB charging cable *1, O-ring *1, 18650 adapter pipe *1, user manual *1.
Operation: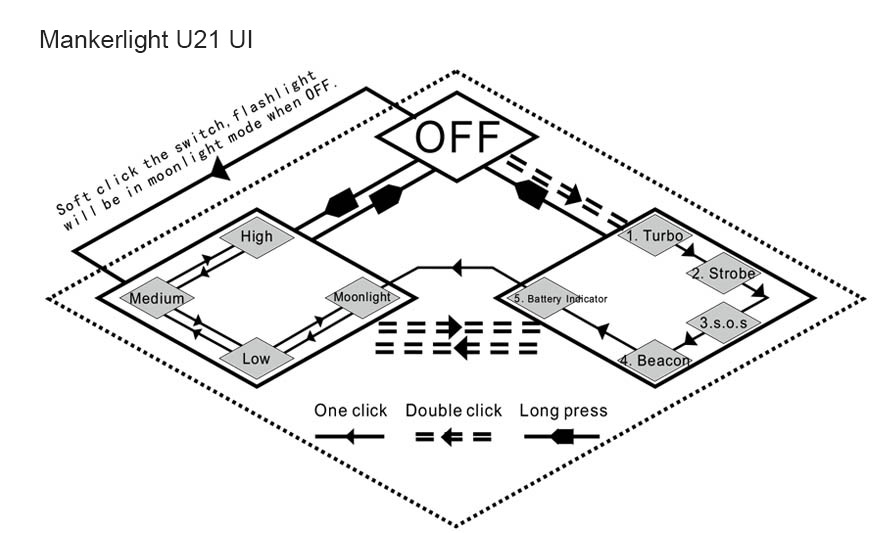 1.When the flashlight is off , one click ,access to moonlight mode (left part of the figure), one click to circle: moonlight-Low-Medium -High. Long press for off.
2.When the flashlight is off, long press to access to the mode your last use as in left part of the figure (Memory function), one click for circle. Long press for off.
3.When the flashlight is off, double click access to Turbo, one click for circle. Long press for off.
4.When the flashlight is on, double click to switch between the two groups(left and right part of the figure)
Side switch battery indicator:
1. Blue: More than 70%
2. Purple: 50%
3. Red: Less than 20%
Lock out:
One click-Double-Triple from any mode to lock out the flashlight.(Only the battery indicator works when lock out)
Engineering Mode(Choose output level for Moonlight mode):
Long press for off and still hold on, the side button battery indicator will turn on and then quick click for 4 times to get access to engineering mode. One click to check different level and long press to make your final choice

Kindly note: Please feed the U21 with high-drain unprotected 26650 batteries.
Manker U21 old version Reviews:
YouTube Video: https://youtu.be/zdUYbeiMRjA
Forum: http://www.candlepowerforums.com/vb/showthread.php?420111-Manker-U21-Pocket-thrower-XHP35-HI-1300-lumens-26650-18650-(beam)shots-compare
Forum: http://budgetlightforum.com/node/47289
Forum (Germany): http://www.taschenlampen-forum.de/threads/manker-u21-thrower-review-vorstellung.49387/